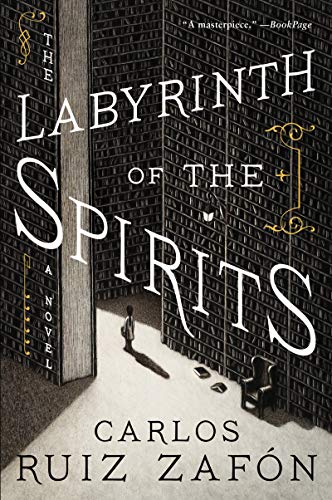 The Labyrinth of the Spirits is, quite frankly, the best book I have read all year. My advice is to cook a weeks' worth of meals ahead of time, shut off your phone's ringer, and get real familiar with your couch or the coziest seat in your reading nook. Once you pick up this fast-paced, heart-pounding thriller, you will be glued to the pages, I guarantee it. Although it's the final installment in a four-part series involving the Cemetery of Forgotten Books, the stories are meant to be read in whatever order you wish to consume them.
Twenty years after the bombing of Barcelona during the Spanish Civil War in 1938, Alicia Gris still bears the emotional and physical burdens of that tumultuous and violent time. Ready to forge a new life for herself after working as an investigator in the Madrid secret police for the last decade, she is given one final assignment: to solve the disappearance of Spain's Minister of Culture, Mauricio Valls.
Together with her police partner, Vargas, the two set out on a dangerous mission that will ultimately expose a series of grisly murders and kidnappings linked directly to Franco's regime in post-war Barcelona. The closer they come to finding Valls, the more treacherous the threats become, leading them through the dark labyrinth of Barcelona's streets and into an even darker period of corruption in its history.
Alicia is gritty and sassy, not to mention beautiful and dangerous. She refuses to trade the truth for a lie and it is my firm belief that she will win your heart by the end of this novel, as she did mine.
Whether or not you choose to read the other three books in the series is up to you. This is one I would refuse to pass up. If you decide to read it, drop me a line. I'd love to fangirl over Carlos Ruiz Zafón with you. He is, in my humble opinion, one of the greatest authors of magical realism of our time.